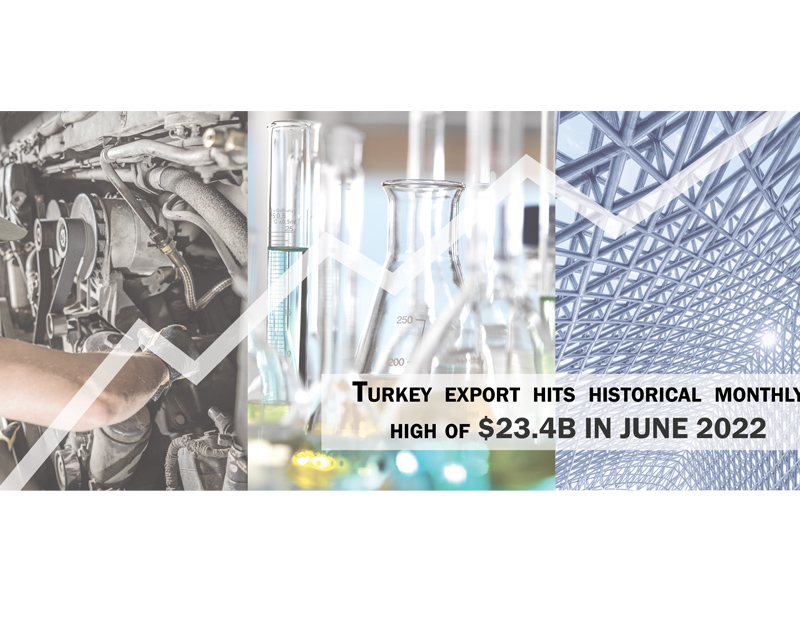 According to data from Turkey Trade Minister Mehmet Mus, Turkey's export surged to $23.4 billion in June which is the highest monthly figure data in the country's history. This is a significant increase of 18.5% as compared to June 2021, making it Turkey's highest monthly export data figure of all time.
This is primarily driven by Russia's invasion of Ukraine which has caused soaring energy costs. Turkey exports of Energy has solely accounted for $8.1 billion shown in customs data. While the invasion has caused global commodity prices to increase as inflation fears grow. Additionally, the Turkey government push to increase exports has continued to be successful with the highest trade data volumes being recorded in the first six months of 2022.
Trade Data Pro has trade data that shows the top export destination was Germany with $1.87 billion, followed by United States at $1.55 billion and Iraq at $1.21 billion. The largest increase is South Korea, with 268.8% increasing from $48.2 million in June 2021 to $177.9 million June 2022. Using

Trade Data Pro,

we can see from trade data that there are significant increases in exports to Romania, United Arab Emirates and South Africa.
Meanwhile, Trade Data Pro trade data shows there are twenty sectors that have increased their exports. With the Chemical Sector ranking in first with $3.2 billion. Automotive Sector and Steel Sector followed as the second and the third. Turkey's overall trade imports in June was $31.6 billion, while energy was at $8.1 billion. The main import data sources were Russia, China and Germany, with $5.6 billion, $3.7 billion and $2 billion each.
Turkey upward trade growth in exports is extremely crucial in keeping Turkey's market performance dynamic and strong. In current times where the world is facing economic difficulties, Turkey's growing trade economy of production of goods and services will help keep Turkey competitive in such challenging times. Global economists have forecast that Turkey will continue its growth and export targets above $250 billion.
To have exclusive insights into Turkey Custom Data / Import Data / Export Data, please log into
Trade Data Pro's
database for full data access.